By now, we've all heard about the latest human coronavirus strain that is claiming lives in China, making its way through Europe and reaching North America, officially named: Covid-19. And whether you're dealing with a mild coronavirus infection, or you want to be prepared in the event the Wuhan strain Covid-19 becomes a serious threat, this article will focus on the burning question: What Kills Human Coronavirus: The Strong, Deadly Strains like Covid-19
To skip our research, you can jump to the products table here:
Jump to Coronavirus Disinfectants.
---
The team at WhatKillsIt.com would like to preface this article by reminding our readers that the latest viral threat: Novel Coronavirus originating in Wuhan China, is an emerging virus.
"Emerging virus" means it is new and without historical data. Therefore, you will not be able to find a "legitimate" product label that says "Kills Novel Coronavirus" or "Kills Wuhan Coronavirus" as it is much too early for that statement to be verified.
As such, this article will teach you protocol for emerging threats and what to look for in a disinfectant in order to increase your chances of buying a product strong enough to kill the viral particles of an emerging threat.
Disinfecting for the "Common Cold" Human Coronavirus Vs. Deadly, Life-Threatening Strains like SARS, MERS and the New Strain from Wuhan China.
Hundreds, maybe thousands, of readily available disinfectants are labeled effective for their ability to kill "Human Coronavirus" but that doesn't automatically mean the product will be capable of killing a deadly strain of human coronavirus, like the one originating from Wuhan China.
If that were the case, then all of the disinfectants labeled "kills human coronavirus" should have been able to kill the deadly SARS Coronavirus in 2002 (Severe Acute Respiratory Syndrome) and the deadly MERS Coronavirus in 2012 (Middle Eastern Respiratory Syndrome).
EPA registration data shows that most of these disinfectants were NOT subsequently registered for their ability to kill deadlier strains, SARS and/or MERS.
Product Label Kill List Samples
The following images show you what a product label might look like when capable of killing the basic, common cold type human coronavirus that is a part of our everyday lives: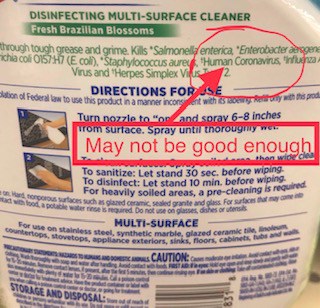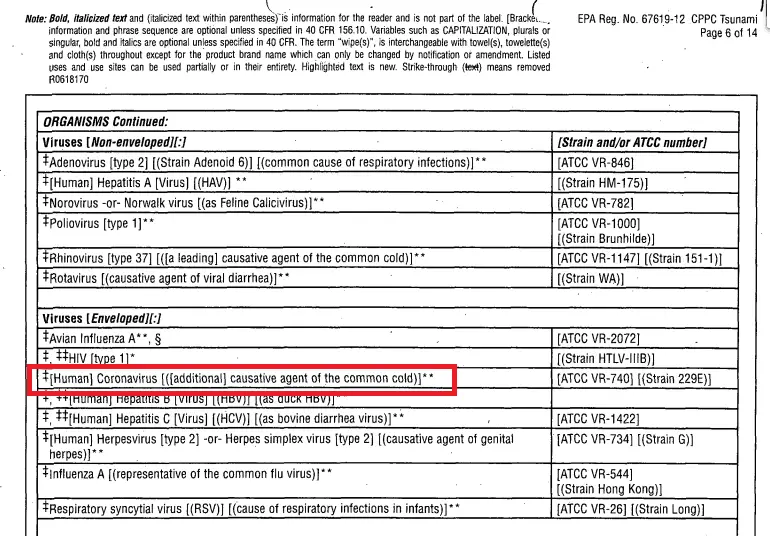 Why The Above Disinfectants May Not Be Good Enough
Generally speaking, most Human Coronavirus strains are part of our everyday lives, mild, and present humans with nothing more than a chest cold or congestion.
Many incorrectly assume that a product labeled: "kills human coronavirus" means it will be strong enough to kill a deadly, emerging strain like Covid-19. 
What to Look for Instead…
Disinfection Protocol on Emerging Viral Threats
Absent data, any attempt to kill (disinfect) viral particles of an emerging virus, the standard protocol is to use products proven to kill similar human coronaviruses.
A better choice for killing a life-threatening, emerging strain of Human Coronavirus like Covid-19, is to use EPA registered products that became registered to kill the deadly Human Coronaviruses: SARS in 2002 (Severe Acute Respiratory Syndrome) and MERS in 2012 (Middle Eastern Respiratory Syndrome). 
A product that is capable of killing the deadly SARS will say both:
Kills Human Coronavirus
Kills SARS Related Coronavirus
If it is capable of killing MERS, is should read:
Kills Human Coronavirus
Kills MERS Related Coronavirus
It will either say it on the label (if we're lucky) or it will be listed on the company website or the EPA website if you enter the product's EPA Registration Number.
Like these: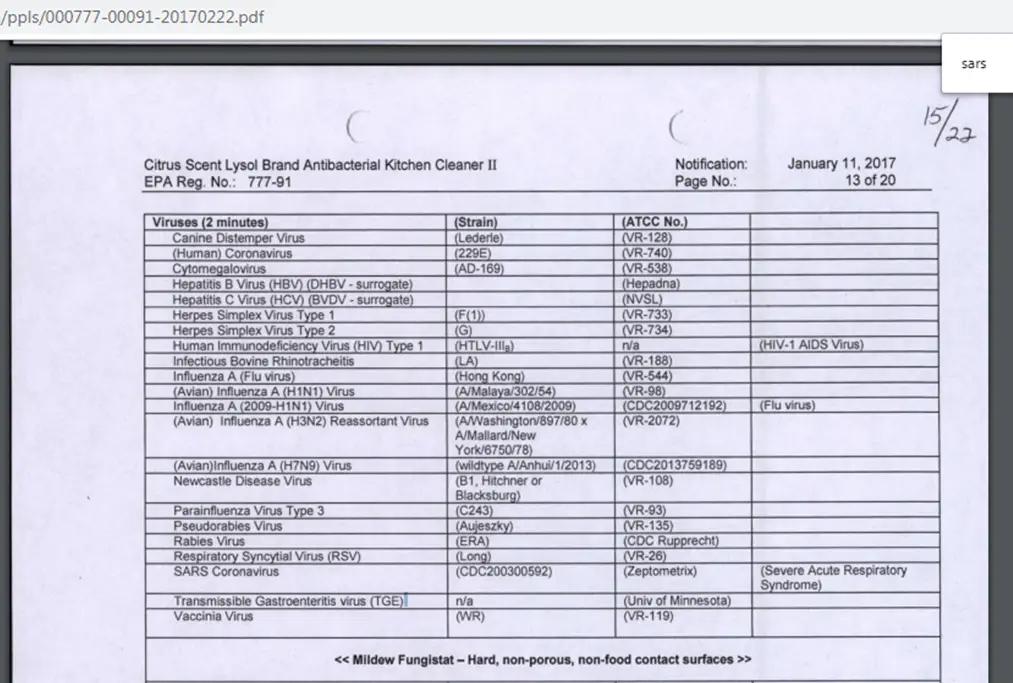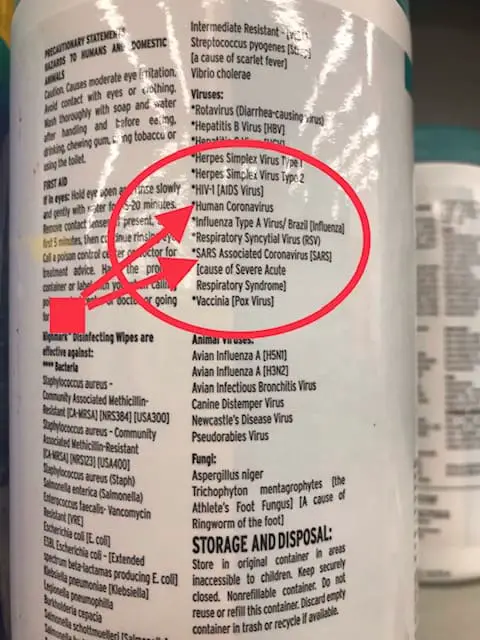 Disinfectants Strong Enough to Kill MERS Coronavirus
This product, Oxivir TB (link to product) kills the basic human coronavirus AND just got EPA approval for its ability to kill the deadly MERS coronavirus (January 2020).
In the case of Oxivir TB, since the approval decision is so recent, most product labels will not be updated for some time. But both Oxivir TB spray and wipes are effective for killing MERS strain coronavirus. See EPA Website Snapshot below: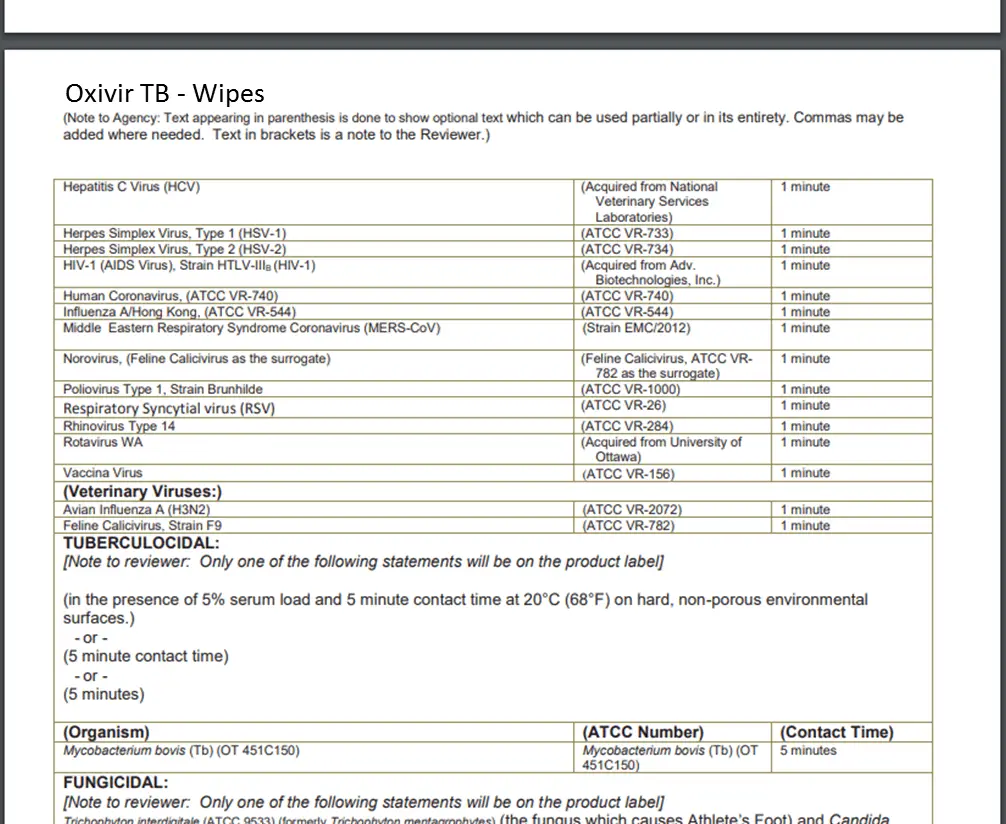 Coronavirus Disinfectants
So What Should We Look For When Trying to Kill a New Deadly Coronavirus?
"Antibacterial" is not the phrase we're looking for. We want "virucidals" or "anti-viral" kill claims. Then, we should look for SARS and MERS.
Coming up, we are going to look at disinfectants that are EPA registered for killing life threatening, SARS and/or MERS coronavirus, now that those 2 (once emerging viruses) have historical data.
How to Use these Tables: Disinfectants EPA Registered for Human Coronavirus, SARS or MERS
All of the products listed are capable of killing common cold Human Coronavirus, and so we took the time to investigate their entire kill list by entering their registration number into the EPA database. Only a handful have expanded their kill claim to include the deadlier strains MERS or SARS.
Where to Buy
If we found an online source for purchasing these disinfectants, we included our affiliate links to either amazon, home depot or walmart.
That's the best we can do with an emerging threat as there simply is no data. We encourage you to read the updates provided on the CDC website (link) and WHO Website link (World Health Organization).
Let's get into our researched products. We have 2 tables, one for Wipes and the other for SPRAYS.
Our article regarding Hand Sanitizers studies is linked at the end of this article.
Wipes That Kill Human Coronavirus
Wipe
Brand
Name
Human
Coronavirus
Kill Claim
SARS
Kill
Claim
MERS
Kill
Claims
Oxivir TB
1 minute
NONE
1 minute
Lysol Disinfecting
2 minute
2 minute
NONE
HIGHMARK
Disinfecting Wipes
10 Minutes
10 Minutes
NONE
CaviWipes
1 minute
NONE
NONE
Isotex 70
1 minute
NONE
NONE
DisCide Ultra
30 Seconds
NONE
NONE
Rescue Wipes
30 Seconds
NONE
NONE
Spray Disinfectants that Kill Human Coronavirus
More FAQ's about Human Coronavirus, SARS or MERS
Does Lysol Kill Human Coronavirus, SARS or MERS
We have not been able to find a Lysol product rated for killing MERS Coronavirus, but we just verified through EPA database, 4 Lysol Products rated for their ability to kills SARS Coronavirus. They are linked in the two tables above. These may not have SARS written on the label, but they are registered for efficacy of SARS on EPA website.
These are Lysol Brand (SARS) Killing EPA Registration Numbers:
EPA Registration Number 777-99 – Aerosol Disinfecting Spray
EPA Registration Number 777-127 – Aerosol Disinfectant Max Cover Mist
EPA Registration Number 777-14 – Disinfectant Wipes
EPA Registration Number: 777-71 – Power Foam Bathroom Cleaner
EPA Registration No 777-91 Lysol Citrus Scent Antibacterial Kitchen Cleaner II: (it must include the II on the end)
Does Clorox Bleach Kill Human Coronavirus SARS or MERS?
Clorox has a superb informational brochure that charts what their products are capable of killing. Their bleach based products are NOT rated for killing SARS or MERS which means household laundry bleach is not rated for killing deadlier strains of coronavirus.
However, their Quaternary (ammonium) based products do have expanded kill capabilities. In fact, these products are capable of killing so many pathogens, that they cannot all fit on the bottle. In this case, the company lists all the pathogens on their website and so does the EPA.
These Clorox products are EPA registered for killing SARS and therefore, may be effective for killing a life-threatening Novel Coronavirus – Covid-19:
What Else, Besides Bleach and Lysol Kills Coronavirus?
Oxivir TB – EPA Registration Number: 70627-56
Oxivir TB in both Spray and Wipe has kill claims for Human Coronavirus and more specifically: MERS (Middle Eastern Respiratory Syndrome) and therefore may be able to kill emerging Novel Coronavirus.
Click Either Picture for Price Check and Availability
Summary
The CDC is updating it's outbreak page on a daily basis. Here is a portion of their current message to the general public;
"There is currently no vaccine to prevent 2019-nCoV infection. The best way to prevent infection is to avoid being exposed to this virus. However, as a reminder, CDC always recommends everyday preventive actions to help prevent the spread of respiratory viruses, including:"
Wash your hands often with soap and water for at least 20 seconds. Use an alcohol-based hand sanitizer that contains at least 60% alcohol if soap and water are not available. (link to hand sanitizer article)
Avoid touching your eyes, nose, and mouth with unwashed hands.
Avoid close contact with people who are sick.
Stay home when you are sick.
Cover your cough or sneeze with a tissue, then throw the tissue in the trash.
Clean and disinfect frequently touched objects and surfaces.
Our Thoughts
If budget allows, pick one disinfectant rated for killing SARS and one that kills MERS. They don't have to break the bank. Follow directions on the product, exactly as written. Right now, the only one rated for killing MERS is Oxivir TB Spray or Oxivir TB Wipes. As for SARS, you have a lot more options listed in the table above.
If budget is a concern and you can only afford one disinfectant product we'd follow the science. Currently, most of the science is saying that Novel Coronavirus from Wuhan (Covid-19) is very genetically similar to that of SARS. So a SARS killing disinfectant may be preferred.
Lysol Products listed above and Clorox Broad Spectrum Quaternary (link) are registered by the EPA for their ability to kills SARS and the prices are manageable.
Also, we found these SARS killing wipes: HighMark Disinfecting Wipes on the shelves of Office Max/Depot. Just keep in mind, wipes are convenient, but it's not as easy to achieve "wet contact time" disinfection requirements.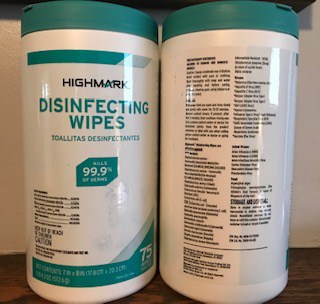 If online retailers become out of stock you may luck out simply by visiting the cleaning aisle of your local supermarket, home improvement or office supply store and taking a moment to read labels. If you can find a product that kills SARS and or MERS, the product MAY be able to kill the emerging coronavirus from Wuhan China.
Emerging Threat Reminder
Remember, nothing is guaranteed to kill an emerging virus. Protocol is to use a disinfectant proven to kill similarly deadly strains.
There is a process in which the CDC (Center for Disease Control) allows approved, registered manufacturers to begin marketing claims that their product "should" be effective for killing newly named threats. The outlets of making these claims are usually limited to websites and customer service numbers. UPDATE Feb.11th, 2020: THIS IS NOW IN EFFECT
We will update this page as information on disinfection becomes available and of course our research continues.
See why we like 70% alcohol based hand sanitizers – Read our Article HERE
If you found this information useful, please consider SHARING!