By now, we've all heard about the latest human coronavirus strain that is claiming lives in China, making its way through Europe and reaching North America, officially named: Covid-19.
Whether you're dealing with a mild coronavirus infection, or you want to be prepared in the event Covid-19 becomes a serious threat, this article will focus on the burning question: What Kills Human Coronavirus on Surfaces: The Stronger, Deadly Strains like Covid-19
To skip our research, you can jump to the products table here:
Industrial Section Updated March 12
Jump to Coronavirus Disinfectants.
---
The team at WhatKillsIt.com would like to preface this article by reminding our readers that the latest viral threat: Novel Coronavirus originating just recently named: Covid-19 is an emerging virus. 
"Emerging virus" means it is new and without historical data.  Therefore, you will not be able to find a "legitimate" disinfectant product labels that says "Kills Novel Coronavirus" or "Kills Covid-19 Coronavirus" as it is much too early for that statement to be verified.
As such, this article will review typical protocol for emerging threats and what to look for in a disinfectant in order to increase your chances of buying a product strong enough to kill the viral particles of an emerging threat on hard surfaces around the home or office.
Disinfecting for the "Common Cold" Human Coronavirus Vs. Deadly, Life-Threatening Strains like SARS, MERS and the New Strain named Covid-19
Hundreds, maybe thousands, of readily available disinfectants are labeled effective for their ability to kill "Human Coronavirus" but that doesn't automatically mean the product will be capable of killing a deadly strain of human coronavirus, like the one originating from Wuhan China.
If that were the case, then all of the disinfectants labeled "kills human coronavirus" should have been able to kill the deadly SARS Coronavirus in 2002 (Severe Acute Respiratory Syndrome) and the deadly MERS Coronavirus that began in 2012 (Middle Eastern Respiratory Syndrome).
EPA registration data shows that most of these disinfectants were NOT subsequently registered for their ability to kill deadlier strains, SARS and/or MERS. Let's take a look at some product labels.
Product Label Kill List Samples
The following images show you what a product label might look like when capable of killing the basic, common cold type human coronavirus that is a part of our everyday lives: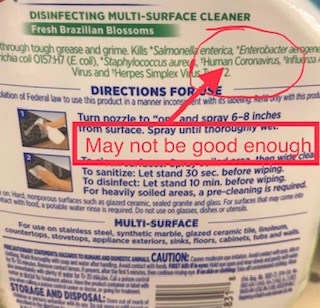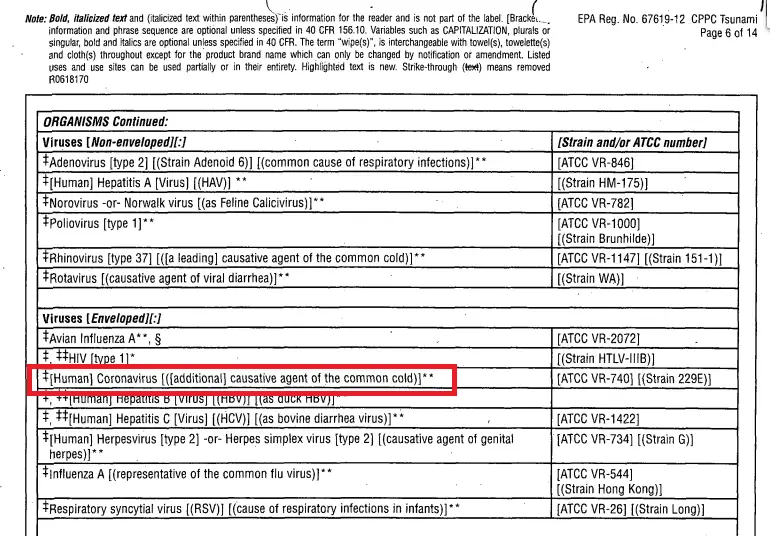 Why The Above Disinfectants May Not Be Good Enough
Generally speaking, most Human Coronavirus strains are part of our everyday lives, mild, and present humans with nothing more than a chest cold or congestion. 
Many incorrectly assume that a product labeled: "kills human coronavirus" means it will be strong enough to kill a deadly, emerging strain like Covid-19. 
Now, perhaps it ends up that the product CAN kill the more complex strains, but until testing, it's simply not a guarantee.
What to Look for Instead…
Good Disinfection Protocol on Emerging Viral Threats
Absent data, any attempt to kill (disinfect) viral particles of an emerging virus, the standard protocol is to use products proven to kill similar human coronaviruses.
When considering different products, a better choice for killing a life-threatening, emerging strain of Human Coronavirus like Covid-19, might be to use EPA registered products that became registered to kill the deadly Human Coronaviruses: SARS in 2002 (Severe Acute Respiratory Syndrome) and MERS in 2012 (Middle Eastern Respiratory Syndrome). 
A product that is capable of killing the deadly SARS will say both:
Kills Human Coronavirus
Kills SARS Related Coronavirus
If it is capable of killing MERS, is should read:
Kills Human Coronavirus
Kills MERS Related Coronavirus
It will either say it on the label (if we're lucky) or it will be listed on the company website or the EPA website if you enter the product's EPA Registration Number.
Like these snapshots from the EPA registrant site: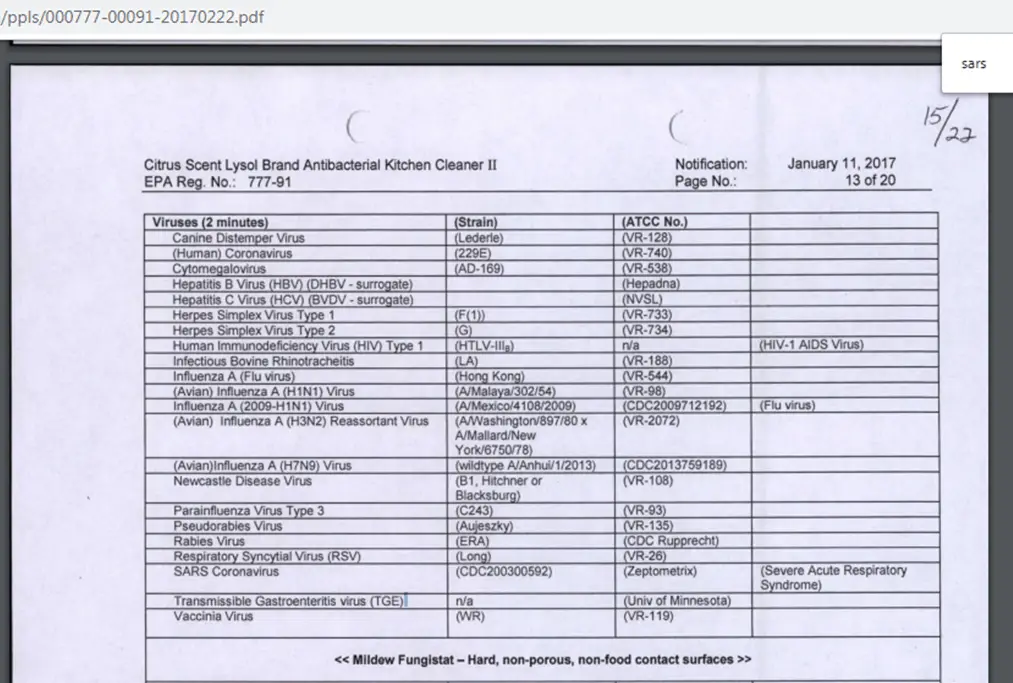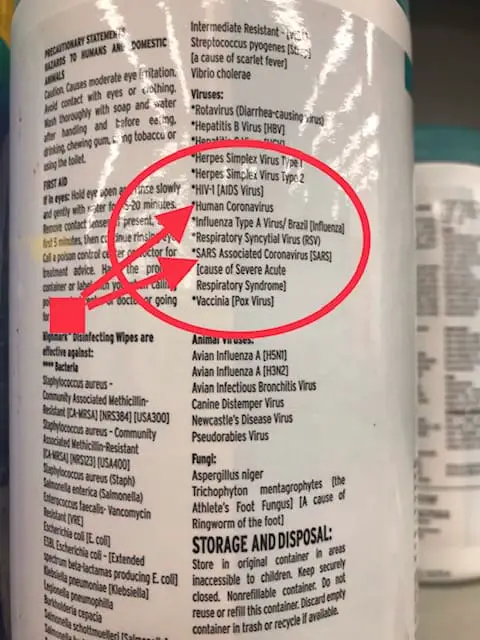 Disinfectants Strong Enough to Kill MERS Coronavirus
This product, Oxivir TB (link to product) kills the basic human coronavirus AND just got EPA approval for its ability to kill the deadly MERS coronavirus (January 2020).
In the case of Oxivir TB, since the approval decision is so recent, most product labels will not be updated for some time. But both Oxivir TB spray and wipes are effective for killing MERS strain coronavirus. See EPA Website Snapshot below: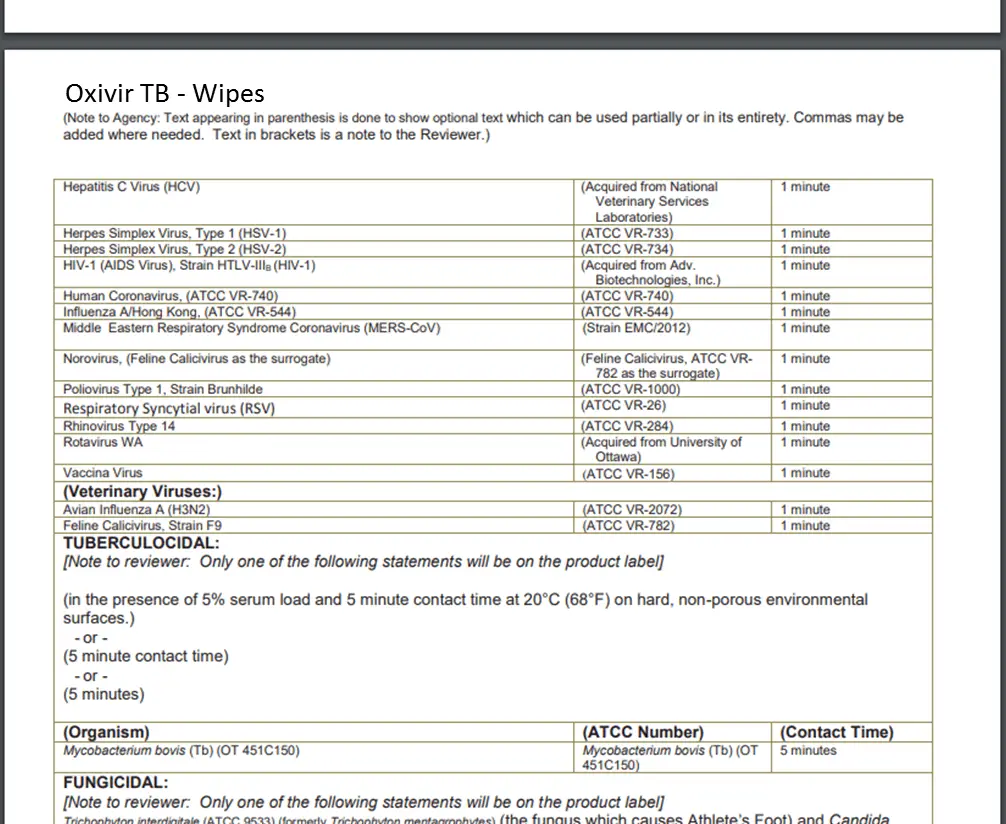 Coronavirus Disinfectants
So What Should We Look For When Trying to Kill a New Deadly Coronavirus?
"Antibacterial" is not the phrase we're looking for. We want "virucidals" or "anti-viral" kill claims. Then, it's a great idea to look for similar, more deadly strains like SARS and MERS.
Coming up, we are going to look at disinfectants that are EPA registered for killing life threatening, SARS and/or MERS coronavirus, now that those 2 (once emerging viruses) have historical data.
Also if the EPA declares an emergency, certain products can be presumed to be effective for emerging pathogens. This occurs ONLY when the manufacturer has applied for the designation and because their product has been proven to kill extremely resilient microbes. Not all products will qualify for emerging pathogen claims. (NOW IN EFFECT).
How to Use these Tables: Disinfectants EPA Registered for Human Coronavirus, SARS or MERS
All of the products listed are capable of killing common cold Human Coronavirus, and so we took the time to investigate their entire kill list by entering their registration number into the EPA database. Only a handful have expanded their kill claim to include the deadlier strains MERS or SARS.
Where to Buy
If we found an online source for purchasing these disinfectants, we included our affiliate links to either amazon, home depot or walmart.
We encourage you to read the updates provided on the CDC website (link) and WHO Website link (World Health Organization). Always go with the most updated information when it comes to disinfectants and EPA, CDC guidance.
Let's get into our researched products. We have 2 tables, one for Wipes and the other for SPRAYS. We have tried diligently to add and remove products according to the stock availability, but it is no longer possible.
Our article regarding Hand Sanitizers studies is linked at the end of this article.
Wipes That Kill Human Coronavirus
Wipe
Brand
Name
Human
Coronavirus
Kill Claim
SARS
Kill
Claim
MERS
Kill
Claims
Qualified for
Emerging Virus Claims
Oxivir TB
1 minute
NONE
1 minute
Yes
Lysol Disinfecting
2 minute
2 minute
NONE
Yes
HIGHMARK
Disinfecting Wipes
10 Minutes
10 Minutes
NONE
CaviWipes
1 minute
NONE
NONE
Yes
Isotex 70
1 minute
NONE
NONE
DisCide Ultra
30 Seconds
NONE
NONE
Rescue Wipes EPA-74559-9 (Also called
Oxy-1 Wipes)
30 Seconds
NONE
NONE
Yes
Clorox Healthcare Bleach Germicidal Wipes. EPA Reg.# 67619.12
1 Minute
1 Minute
Yes
Spray Disinfectants that Kill Human Coronavirus
Industrial Disinfectants: EPA Guidance for killing Covid-19 – LARGE Quantity Needs (Schools, Gyms, Casino's, Large Gathering Spaces, ETC.,)
Below are 3 products – 2 are sold in concentrated forms and make a HUGE amount of disinfectant after they are diluted. The other (Spray Nine) is ready to use.
Must Be Diluted – The following disinfectants are NOT Ready to Use and extremely harmful in their concentrated form.   You'll add the stated amount to your own CLEAN spray bottles or sprayers and then Dilute with water according to instructions.  
Peroxide Multi Surface Cleaner and Disinfectant: (link to product)
EPA Reg. # 1677-238
Label Snippet – USES
USE: Areas of Use: schools and colleges, veterinary clinics and animal life science laboratories, animal care and farm premise locations, industrial facilities, dietary areas, beverage and food processing plants, restaurants, hotels, motels, office buildings, recreational facilities, medical facilities, hospitals, kitchens, nursing homes, assisted living facilities, medical and dental offices, retail and wholesale establishments, cruise ships, casinos, correctional facilities, athletic facilities, health clubs.
Kill List Snippet
In 5 minutes diluted in 400 ppm hard water: *Adenovirus type 5 (ATCC VR-5) *Influenza A Virus H1N1 *Rhinovirus Type 37 (ATCC VR-1147) *Poliovirus (chat strain) *Herpes Simplex Virus Type 2 (ATCC VR-734) *Hepatitis B Virus *Respiratory Syncytial Virus (ATCC VR-26) *Vaccinia Virus (ATCC VR-119) *Human Coronavirus (SARS) (ATCC VR-740)
TIP: To Covert PPM (parts per million) to a Dilution Ratio, Divide PPM/By 12.5. Example: 400PPM/12.5 = 32.  Therefore a 400 PPM requires a 32X dilution or 1 Part Product to 32 Parts Water.
400 PPM = 4 ounces of product to 1 Gallon of Water
200 PPM = 2 ounces of product to Half Gallon of Water
You can see this product will go a VERY LONG WAY.
Lysol Brand HEAVY DUTY Cleaner (Bathroom) Disinfectant CONCENTRATE (link to product)- Out shopping? Look in restaurant supply stores or industrial supply stores. You want EPA Reg.# 675-54 (back of bottle)
Kills SARS in 5 Minutes contact time when diluted per instructions
clickable image to product
Lysol Heavy Duty Concentrate Active Ingredients:
<< FRONT PANEL >> ACTIVE INGREDIENT: Alkyl (50% C14, 40% C12, 10% C16) dimethyl benzyl ammonium chloride . . . . . . . . 3.44%
OTHER INGREDIENTS: . . . . . 96.56% TOTAL: . . . . . . . 100.00%
Spray Nine Heavy Duty Cleaner/Degreaser/Disinfectant (link to product options and pricing). One of our contributing members is a teacher in New York State and their school is using Clorox Wipes (which we knew about) and a product called Spray Nine.
We looked into Spray Nine via their EPA Registration # 6659-3 and as of March 2, 2020 Spray Nine Disinfectant is qualified to make claims for Covid-19.
Here is a link to buy spray nine and here is a current snapshot (March 12, 2020) of Spray Nine Makers website and a visual of what the product Spray Nine looks like: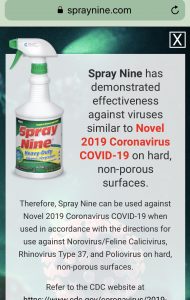 Spray Nine Active Ingredients Snippet 3/12/2020:
n-Alkyl (60% C14, 30%C16, 5%C12, 5%C18) dimethyl benzyl ammonium chloride . .. . 0.178%
n-Alkyl (68%C12, 32%C14) dimethyl ethylbenzyl ammonium chloride . .. . 0.178%
Other Ingredients ‡ . . . … . 99.644% 100.00% ‡ Includes detergents and other grease cutting agents.
Depleted Stock of Coronavirus Disinfectants
Eventually, online markets will be depleted of stock, if you don't want to wait for online merchants to replenish their supplies, we invite you to download or print our free: Printable Disinfectant Shopping List and take it with you shopping.
More FAQ's about Human Coronavirus, SARS or MERS
Does Lysol Kill Human Coronavirus, SARS or MERS
We have not been able to find a Lysol product rated for killing MERS Coronavirus, but we just verified through EPA database, 4 Lysol Products rated for their ability to kills SARS Coronavirus. They are linked in the two tables above. These may not have SARS written on the label, but they are registered for efficacy of SARS on EPA website.
If you find MERS kills claims on a lysol product, please let us know.
These are Lysol Brand (SARS) Killing EPA Registration Numbers:
EPA Registration Number 777-99 – Aerosol Disinfecting Spray
EPA Registration Number 777-127 – Aerosol Disinfectant Max Cover Mist
EPA Registration Number 777-14 – Disinfectant Wipes
EPA Registration Number: 777-71 – Power Foam Bathroom Cleaner
EPA Registration No 777-91 Lysol Citrus Scent Antibacterial Kitchen Cleaner II: (it must include the II on the end)
Does Clorox Bleach Kill Human Coronavirus SARS or MERS?
Clorox kind of confused s…they own several brands we've never heard of such as Product Name: CPPC Tsunami EPA Registration Number: 67619-12. Every hear of it? Either have we. However, their Clorox Healthcare Bleach Germicidal wipes (Which we've all heard of) are registered under the same number: EPA Registration Number: 67619.12 and therefore have the same formula, same kill claims as CPPC Tsunami which is rated to kill both SARS and MERS.
Why Clorox doesn't update their consumer facing product label to list SARS and MERS is anyone's guess. But according to the EPA, it's all about the Registration Number and companies list multiple products under one number.
Clorox Quaternary (ammonium) based products do have expanded kill capabilities. In fact, these products are capable of killing so many pathogens, that they cannot all fit on the bottle. In this case, the company lists all the pathogens on their website and so does the EPA.
These Clorox products are EPA registered for killing either SARS or MERS and therefore, may be effective for killing a Novel Coronavirus such as Covid-19 – links take you to online pricing and availability.
What Else, Besides Bleach and Lysol Kills Coronavirus?
Oxivir TB – EPA Registration Number: 70627-56
Oxivir TB in both Spray and Wipe has kill claims for Human Coronavirus and more specifically: MERS (Middle Eastern Respiratory Syndrome) and therefore may be able to kill emerging Novel Coronavirus.
Click Either Picture for Price Check and Availability
Summary
The CDC is updating it's outbreak page on a daily basis. Here is a portion of their current message to the general public;
"There is currently no vaccine to prevent 2019-nCoV infection. The best way to prevent infection is to avoid being exposed to this virus. However, as a reminder, CDC always recommends everyday preventive actions to help prevent the spread of respiratory viruses, including:"
Wash your hands often with soap and water for at least 20 seconds. Use an alcohol-based hand sanitizer that contains at least 60% alcohol if soap and water are not available. (link to hand sanitizer article)
Avoid touching your eyes, nose, and mouth with unwashed hands.
Avoid close contact with people who are sick.
Stay home when you are sick.
Cover your cough or sneeze with a tissue, then throw the tissue in the trash.
Clean and disinfect frequently touched objects and surfaces.
Our Thoughts
If budget allows, pick one disinfectant rated for killing SARS and one that kills MERS. They don't have to break the bank. Follow directions on the product, exactly as written on the label you receive. Right now, the only one rated for killing MERS is Oxivir TB Spray or Oxivir TB Wipes. As for SARS, you have a lot more options listed in the table above.
If budget is a concern and you can only afford one disinfectant product we'd follow the science. Currently, most of the science is saying that Novel Coronavirus (now Covid-19) is very genetically similar to that of SARS. So a SARS killing disinfectant may be preferred.
Lysol Products listed above and Clorox Broad Spectrum Quaternary (link) are registered by the EPA for their ability to kills SARS and the prices are manageable.
Also, we found these SARS killing wipes: HighMark Disinfecting Wipes on the shelves of Office Max/Depot.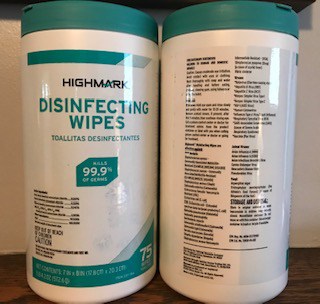 If online retailers become out of stock you may luck out simply by visiting the cleaning aisle of your local supermarket, home improvement or office supply store and taking a moment to read labels.
Don't forget places like Dollar General, Office Max/Depot, Family Dollar, Dollar Tree. If you can find a product that kills SARS and or MERS, the product MAY be able to kill the emerging coronavirus.
Emerging Threat Reminder
Remember, nothing is guaranteed to kill an emerging virus. Protocol is to use a disinfectant proven to kill similarly deadly strains.
There is a process in which the CDC (Center for Disease Control) allows approved, registered manufacturers to begin marketing claims that their product "should" be effective for killing newly named threats. The outlets of making these claims are usually limited to websites and customer service numbers. UPDATE Feb.11th, 2020: THIS IS NOW IN EFFECT
Also Read: Quarantine Preparedness – BEYOND the Pantry
See why we like 70% alcohol based hand sanitizers – Read our Article HERE