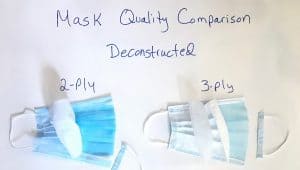 First there were no masks to be found, of any kind, anywhere. Now, popular online marketplaces are littered with blue, disposable face masks ranging in price from a mere .50 up to a whopping 2.00 EACH!
Adding insult to injury is finally settling on a disposable mask that looks to be suitable, only to be presented with a shipping date 3-6 weeks into the future. What gives?
Well as we all know anytime there is such a huge price disparity coupled with a short supply, the go-to sales approach of suppliers and sellers is often one or more of the following:
Saturate the sales page with irrelevant details
Do the opposite and provide as little info. as possible
Share pictures with other sellers so everything looks the same
Tell shoppers to Beware of knockoffs (my personal favorite)
Whatever is causing frustration in your search for a decent, disposable face mask that won't break the bank (or make your face break-out) This guide, complete with pictures, should help.
Here is what we'll cover
2 Ply Masks – Purpose and Pictures
3 Ply Masks – Purpose and Pictures
FDA vs. CE registered product
FDA vs. CE registered manufacturer
How to increase your odds of buying a good quality mask using the FREE FDA searchable database
Coming to terms with Masks made in China (3M included)
In a Hurry? Here is a link to masks that are a good example of what to look for in a quality disposable mask. But, we highly encourage you to read the article so you learn HOW to find a higher quality mask because companies routinely run out of stock.
BULK Packs of – 3 PLY – FDA Registered Facility with pics and #
Before we get into our discussion, it's important to remember that a mask, now recommended by the CDC, is one tool in a full arsenal of good hygiene. Your mask helps keep YOUR germs to YOURSELF. My mask helps keep MY germs to MYSELF, thus reducing the spread of coronavirus by all, whether recovering or asymptomatic.
Let's Get Started!
---
2 Ply Disposable Masks vs. 3 Ply
Many of us have never in our lives shopped for a facemask and are only doing so now because of coronavirus. So as you begin your search for the right type of face mask, you're going to see 2 main styles.
Masks that have 2 layers (2 Ply) and masks with 3 layers (3 ply). Since most of us are new to shopping facemasks, let's get into their differences, beyond the obvious 2 vs. 3 layers.
2 Ply Facemask Details with Pictures (And Who Wears Them)
2 ply masks are extremely common, crudely made, and usually very cheap. Kind of like a sneeze guard at a buffet, the goal of a 2 ply mask is to cover a person's nose and mouth for sanitary appearances.
Though they may provide some respiratory protection against large particles like dust masses and bugs, 2 ply masks are not meant to filter air for the wearer.
Common Uses of 2 Ply Masks
2 Ply masks are hot commodities in the food industry. Think: food processing plants, food packaging plants, food festivals, caterers, school lunchrooms and the like.
They are also worn by factory workers, spa workers, pharmacists, and anywhere that moisture speckles might cause a problem to a finished product.
2-Ply Mask Pictures
The masks pictured below are masks we actually own and have been in our possession for months. Being fully fluent in microbes, which is a cool way of saying "germaphobe," we always have a stash of facemasks in our office supply cabinet.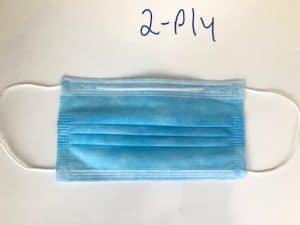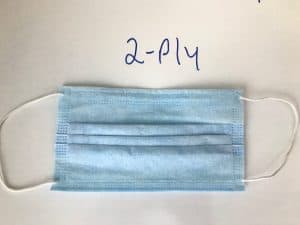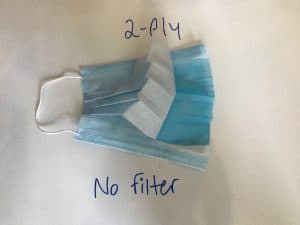 I remember buying these 2 ply masks nearly a year ago because they were just so darned cheap. But here they sit in the cabinet as a last resort because, frankly, they offer little protection from anything. Let's have a look at their construction…
Now let's take look at 3 Ply
3 Ply Facemask Details with Pictures (And Who Wears Them)
3 Ply Masks – Simply put, the 3 layer mask offers a bit of respiratory protection (about 80-90% by most reports) while allowing the user to talk and breathe without too much difficulty providing their airways are not compromised to begin with.
Common Uses of 3 Ply Masks
Because it has a middle layer which is the layer of filtration, 3 ply masks are often found in medical facility waiting rooms (put a mask on if you're sick).
They are also commonly used by dentists, hygienists, hair stylists and nail salon manicurists and others who are routinely in very close proximity (within 2 feet) of several people per day and for long durations.
3 Ply Mask Pictures
These 3 Ply masks are also in our office supply cabinet and we bought 3 (50 packs) specifically to comply with NY state's new mandate to wear a mask in public. We also keep a mask on around the office, but that's us.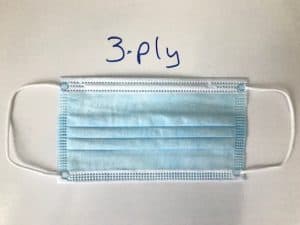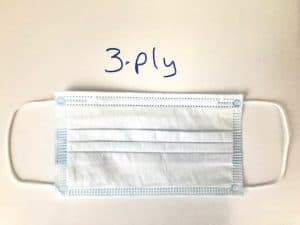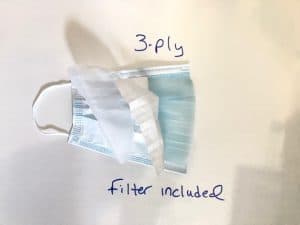 Most claim around 80%-90% filtration, but of course, quality becomes a big factor as to whether or not a 3 layer mask will provide that level of protection.
Many 3 ply masks simply add a thin, see through, fibrous layer of what I can only describe as "pillow fill."
What to Look for in a Disposable Face Mask
Here is the biggest problem you'll encounter when shopping for a quality mask: You can't feel it or deconstruct it to see the real interior. Most pictures offered are "mock-ups" and don't show the real item in action.
But here is what you can see in some pictures:
Layers
Always Choose 3 Ply – You'll want 3 layer masks vs. 2 layer because 2 layer masks do not include a filter. Look for pictures that show the actual inside layer vs. showing you an illustrated mockup.
The inner layer is thin, but it should resemble paper or a coffee filter, not a piece of stretched out pillow fill that has gaping holes everywhere.
Earloops
Attachment – Look for Earloops to be attached to the FRONT of the mask. If you see a mask with earloops attached to the side that goes against your face, that will cause skin irritation and a less secure fit.
Material – Look for soft, kind of fuzzy looking earloops and you definitely want knitted material that is rounded.
Nose Crimp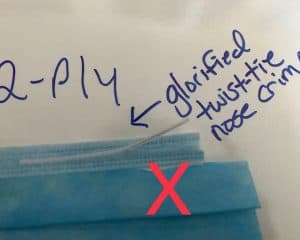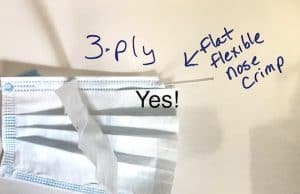 Size – Look for a long, generously sized nose crimp
Style – Flat is a lot more comfortable than rounded wire
Avoid – the nose crimp that looks like a twist tie
Certifications FDA or CE
FDA Approved Mask -If the mask itself is registered with the FDA you've probably found a great quality mask. Make sure to verify these claims. (we'll show you how in a moment).
FDA Registered Manufacturer – If the mask is made by a manufacturer who is registered with the FDA and they have some medical devices approved by the FDA, it may suggest a more quality mask. You might see statements like: The manufacturer of this mask is an establishment registered with the FDA. (more on this below).
CE Approved or CE Compliant – Meaning Conformitè Europëenne (CE) it's the mark used by Europe to represent conformity to regulations. Due to coronavirus and mask shortage, the FDA has lifted some restrictions on the entry of CE products into the US. That doesn't mean they're approved by the FDA, but, it's what all of Europe is using.
If a mask has zero mention of FDA or CE product orFDA or CE facility, then the product might be produced with lower quality materials or in conditions that may or may be what we consider a sanitary factory setting. But if it's all you can find….then do what feels right.
How do I know If a Mask is FDA or CE Registered?
FDA approval of a mask is NOT something that a supplier would hide. They will mention it in the description or on the packaging. Some suppliers will include a picture of their certificate along with other images. It's a pride thing. (Still we need to verify using the FDA database, coming up).
As for CE, you have to be extra cautious here. The CE symbol once reserved for showing conformity to regulations has been hijacked by importers and exporters to denote: Chinese Export. To see the difference in logos, please head on over to this article to see the two symbols side by side: CE vs. CE (Chinese Export) Symbol. It's the best explanation out there.
How to Verify Mask Claims: FDA Approved vs. Made in FDA Registered Facility
There are so many claims being made and many simply cannot be verified. Here is how you can verify masks claiming to be FDA approved or made in an FDA facility.
FDA Approved Mask
Get the name of the manufacturer or registration number. This will usually be adverised somewhere on the sales info page or in a picture.
Head to the FDA Searchable Database (link) and input the company name or the registration number in the proper field. If anything exists, you'll see a list of all their approved products. If you see the non-woven mask listed, it's a good sign that their masks are FDA approved.
Here is what the front end of the database looks like: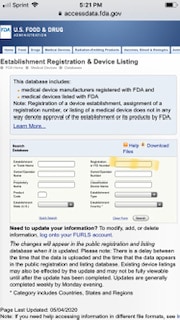 FDA Facility Claims
FDA facility claims are made by manufacturers who often make FDA approved products such as gowns, caps, booties other styles of masks or medical devices.
Do the same as above. Type their registration number into the FDA database and see what type of devices they make that are FDA compliant.
While there is no guarantee that their masks are superior, it's still a good indication that the factory operator understands quality control and how to produce quality items.
Getting Over "Made in China" Masks
The time to have gotten upset about everything we own being made in China was 30 years ago. That's when we (collectively as a society) decided that cheaper was better. The working class didn't stick together and fight for USA, high quality jobs.
Who knew that our lack of commitment to each other would have caused such a crippling dependency? No doubt, our dismissive attitude all those years ago, cleared the path for mammoth importers like Walmart. By the 1990's, their success obliterated higher cost Mom & Pop Shops and met our insatiable appetite for cheap, low quality, disposable consumables.
So, here we are in 2020, mad as hell at China for delaying virus information back in 2019, while they simultaneously supply masks to just about the entire world. Hard pill to swallow indeed.
But the plain truth is that we, the USA, are not in position to handle our mask shortages. Grandma needs a mask, Grandpa needs a mask, YOU need a mask, and the people of China are making them. Once again, they sacrifice their family lives, working overtime to supply the world with masks at prices we can afford, especially during our slashed incomes.
It's OKAY to Wear a Made in China Mask
Even US makers like 3M know what they need to do to keep people protected and meet the demands…
3M has agreed to import millions of protective masks for U.S. health-care workers …3M, based in Minnesota, said it will import 166.5 million masks over the next three months, mostly from its factory in China

Washington Post Arpil 6, 2020
Conclusion 2 ply vs. 3 ply
In the end it is clear that everyone should be participating in wearing a mask in order to achieve the best results possible.
There are all different types of masks for all different purposes and they've been around forever. We reserve the N95 respirators (and higher) for health care workers who are routinely exposed to high levels of the contagions. That leaves us with 2 ply vs. 3 ply masks.
2-Ply are often used in the food industry to help keep food from being contaminated from "talk over" droplets. They are the least protective and not really intended to block stuff out because they have no middle filter layer.
3-Ply are often used by Dentists, hygienists, salon owners – people who are regularly in close proximity of other people's mouths. They have a filter layer which accounts for the third ply.
Look for FDA or CE certificates and verify them using the FDA search databases. If you find the actual product listed…BINGO! If you find the manufacturer is one that routinely supplies medical equipment, that's a good bet that you'll be receiving a quality item.
Links to masks we found to be good quality and providing the right details to consumers.
50 Pack – 3 PLY – FDA Registered Facility
Sold in 10 Packs – FDA Registered Facility
If you have time, we encourage everyone to read a 2013 study published by Disaster Medicine and Public Health Preparedness. Here, they tested the effectiveness of home made face masks vs. commercially available surgical style masks.: would they protect during influenza or a pandemic?